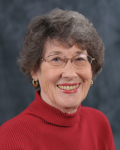 Rose Marie Kuenzli
August 25, 1930 – January 8, 2013
SALEM – Rose Marie Kuenzli, 82, passed away peacefully on January 8, 2013 at the Capitol Manor Retirement Community in Salem Oregon. She was born on August 25, 1930 in Coquille Oregon to Leland and Lavinia Peart. Rose Marie married Robert W. Kuenzli in 1963 moving from Coquille to Salem in 1966.
Rose Marie attended Oregon State University and was active in the Delta Zeta Sorority receiving her Bachelor's degree in Education in 1952. She dedicated her life to teaching, taking great pride in the accomplishments of her students. She taught social studies and language arts at Judson Junior High and Sprague High school retiring in 1988. While teaching, and into retirement Rose Marie remained active in the Philanthropic Educational Organization (P.E.O.) supporting its mission in promoting educational opportunities for women. She was also dedicated to her faith and was a member of the Morningside United Methodist church for 46 years.
Rose Marie enjoyed traveling. From the Far East and Korea, to Europe and the Passion Play and all over the United States she was able to spend special time with her husband experiencing the different cultures and people in the countries she visited. She especially enjoyed her trips to Hawaii and escaping the Oregon winters in Arizona.
Rose Marie had a strong sense of family and took pride on being a good wife, daughter, mother, grandmother and great-grandmother. She and Bob had a wonderful 49-year marriage with all the affection, friendship and romance a good marriage should have. Her relationship as both a mother and a friend with her sons never wavered and she was always there to share their joys and help them through hard times. She adored and was very close with her daughter-in-laws always staying involved with their families without interfering. Rose Marie treated each and every one of her grandchildren and great-grandchildren as the most special person on earth.
Rose Marie is survived by her husband, Robert W. Kuenzli, sons Michael Johnson (Janeen), Stephen Johnson (Michelle), grandchildren Shane, Stacy, Benjamin, Elizabeth and William, and great-grandchildren Madeline, Riley, Josephine and Elijah. She was preceded in death by her parents and her sister and best friend Joan Erickson.