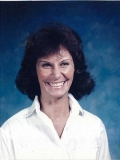 Carlotta Susanne Arnold
August 4, 1948 – November 29, 2012
SALEM – Carlotta Susanne Arnold, 64, loving and dedicated wife and mother, slipped away from us on November 29, from the devastating impacts of Alzheimer's. She was married 47 years to Dale Arnold, her childhood sweetheart, whom she dated all through high school.
A graduate of Lebanon High, Carlotta completed her college degree, then started her 34 years in the Salem-Keizer School District. For 31 years, she was the Career Counselor at Sprague High School, assisting hundreds of students with after school activities and to find their path in life and education. Many awards were bestowed over her career, including the district's highest honor, the Crystal Apple Award in 2007.
Carlotta's true passion in life was her love of Mopar cars. Besides driving her GTX to school for 27 years, she could rebuild the motor, drag race it, and organize car shows. She was honored countless times for her car enthusiast activities.
She is survived by husband, Dale Arnold, SR and son, Dale, Jr., sister Linda Mulvaney and brother, Joe Matula.